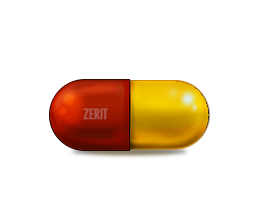 Zerit - treatment of infection caused by HIV, with severe clinical manifestations and ineffectiveness or intolerance of zidovudine, and other antiretroviral drugs. The nucleoside analogue of thymidine is phosphorylated by cellular enzymes to its active form - stavudine triphosphate. Suppresses reverse transcriptase of HIV, cellular DNA polymerases (beta and gamma), inhibits the synthesis of viral and mitochondrial DNA. It is active against HIV-1.
We accept:
Other names for this medication

Delivery period
14-21 days
$9.95
Tracking# available in 14 days

Delivery period
14-21 days
$29.95
Tracking# available in 5 days
Availability:
In Stock 105 packs
Zerit 40
| Package | Per pill | Total price | Save | Order |
| --- | --- | --- | --- | --- |
| 40 x 30 Pills | $1.54 | | - | Add to cart |
| 40 x 60 Pills | $1.28 | | $15.60 | Add to cart |
| 40 x 90 Pills | $1.19 | | $31.50 | Add to cart |
Package Example
Your order will be packed safe and secure and dispatched within 24 hours. This is exactly how your parcel will look like (pictures of a real shipping item). It has a size and a look of a regular private letter (9.4x4.3x0.3 inches or 24x11x0.7cm) and it does not disclose its contents
Front View

Side View

Back View

Zerit product description
---
Drug uses
Zerit is an antiretroviral drug, used for the combined drug treatment of HIV-1 infection in infants of 3 months and older, children and adults. Zerit should be prescribed only to HIV-1 infected patients, for whom an alternative antiretroviral therapy is contraindicated or ineffective.
Zerit capsules are recommended for short-term HIV-1 infection treatment. The key criterion for stopping Zerit treatment is the conditions for Zerit replacement with other antiretroviral drugs.
Therapeutic doses of Zerit depend on the body weight and age of the HIV-1 infected patient.
Zerit dosage for children with body weight of 30 kg is 1 mg per each kg of body weight.
Children, weighing more than 30 kg and adults with a body weight less than 60 kg should take one Zerit 30 mg capsule, twice at day.
Adolescents and adults, weighing more than 60 kg, should take one Zerit 40 mg capsule, twice at day.
A single Zerit dose should be reduced to 15 mg or 20 mg, if HIV-1 infection is complicated by renal insufficiency. In severe renal disease, intake frequency of Zerit capsules should be reduced to once a day.
Missed dose
Missed dose of Zerit should be taken as soon as possible. If you skipped the missed dose and it is almost time for your next scheduled Zerit dose, then you should take the next Zerit dose as directed in the approved dosage regimen.
More information
Zerit capsules are recommended to be taken on an empty stomach, however can be taken with food. Zerit capsules should be taken every 12 hours for maintaining a significant antiviral effect throughout the day. The patients, who have difficulties with swallowing, can open Zerit capsule and stir its content with soft food.
Storage
Antiretroviral drug Zerit should be stored in original package (plastic bottles, blisters), at room temperature below 30°C. Zerit capsules should be protected from excessive moisture, so they should not be stored in the bathroom.
Zerit safety information
---
Warnings
In some patients, Zerit may cause atrophy of adipose tissue. Pregnancy and excessive weight are the risk factors of this undesirable effect. Zerit in combination with other drugs for HIV management (including Videx) increases the risk of the pancreas inflammation and decreased hepatic function.
Disclaimer
Information about Zerit is reliable and accurate at the time of publication. The online pharmacy reserves the right to remove or/and make changes to information about Zerit without a prior user notice. The ultimate responsibility for the use and dosage of the antiretroviral drug Zerit lies on the online pharmacy visitors.
Zerit side effects
---
Zerit rarely causes side effects, so its benefits for the HIV-infected patients outweigh the potential risk. The intensity, frequency and risk of Zerit adverse reactions are not dependant on the patient's age. Note that Zerit is always used in combination with other antiretroviral drugs. Therefore, adverse events, manifesting in Zerit use, may be caused by other drugs.
In clinical studies of Zerit, about 15% of the patients stopped taking Zerit capsules due to side effects. Fatigue, dry skin, rash, pruritus, cough, pharyngitis, headache, peripheral neuropathy, dyspepsia, nausea, diarrhea, and vomiting were reported by other clinical study participants, while they were using Zerit.