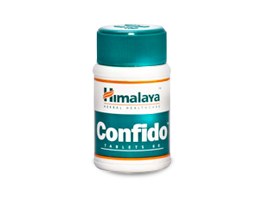 Confido controls men's sexual dysfunction. Inadequate circulation of testosterone levels results in it. Due to its androgenic properties, the drug increases the amount of sperm and testosterone treating erectile dysfunction. It regulates ejaculation via the neuroendocrine route. Confidential improves sexual drive and manages anxiety associated with sexual activity. It is appointed to patients with accelerated ejaculation, spermatorrhea, disorders related with the age, to improves sexual desire. For accelerated ejaculation, one should take one pill two times a day during 2-4 weeks. For spermatorrhea - 1 pill 2 times a day for 4-6 weeks.
We accept:

Delivery period
14-21 days
$9.95
Tracking# available in 14 days

Delivery period
14-21 days
$29.95
Tracking# available in 5 days
Availability:
In Stock 77 packs
Confido 60
Package Example
Your order will be packed safe and secure and dispatched within 24 hours. This is exactly how your parcel will look like (pictures of a real shipping item). It has a size and a look of a regular private letter (9.4x4.3x0.3 inches or 24x11x0.7cm) and it does not disclose its contents
Front View

Side View

Back View

A healthy intimate life is an important constituent of any man's life. Experiencing problems in this sphere may become a real challenge. Such issues are not new and for thousands of years, men have been looking for the best solution. Ayurvedic medicine has developed Confido – a preparation containing herbal extracts and powders, which can help any man feel confident in bed.

Product description
---
Confido is used in the treatment of premature ejaculation, erectile dysfunction, infertility caused by low sperm count, and involuntary night or daytime ejaculations. In addition, the medication has a significant impact on male libido and anxiety connected with poor sexual performance.
The drug consists of powders and extracts of various herbs including Ashwagandha, Kokilaksha, and Sarpagandha. You may learn the full list of ingredients from your Ayurvedic doctor or from the patient's leaflet.
Confido is available in film-coated pills, 60 tablets in each bottle. The drug should be taken once daily for 2-6 weeks. However, the therapy may be continued up to 12 weeks, which is maximum. Consult with an Ayurvedic medical specialist prior to taking Confido because you may need the dosing regimen, which differs from the one described here.
The first results of the drug intake may be noticed in approximately 2 weeks after the first pill has been taken.
Safety information
---
The preparation is considered relatively safe. Nevertheless, there are some common precautions one should take into account before starting the intake.
Confido contains Sarpagandha (Rauwolfia Serpentina), which possesses some blood pressure lowering properties. Hence, individuals suffering from hypotension or those who administer antihypertensive pills should take it into account not to develop extremely low blood pressure.
The presence of Suvarnavang in the composition of the medication limits the maximal duration of the therapy to 3 months. Never take Confido longer than this period as it may result in some unwanted effects. If you are not satisfied with the results of the treatment, achieved during this period of time, talk to your Ayurvedic doctor to develop the other tactic of curing.
It should also be mentioned that the intake of Confido should be stopped gradually. Abrupt discontinuation of the therapy may result in a withdrawal syndrome. Discuss the schedule of dose reduction with an Ayurvedic professional. You should strictly follow his or her advice to avoid hazardous health conditions.
Though it is very unlikely, yet some patients may experience an allergy to Confido. Rash, swelling of the throat, tongue or face should make you turn for medical help promptly.
Confido pills are recommended to be taken after a meal with a glass of milk. The drug is not intended to be used in women and individuals younger than 18 years old.
Side effects
---
The appearance of any adverse reactions is not characteristic of Confido. Nevertheless, the patients suffering from low blood pressure may feel:
Headache;
Lack of energy;
Faintness;
Sleepiness;
Tiredness.
In case these symptoms are bothering you, get worse or last for too long, contact your Ayurvedic specialist. Perhaps this remedy doesn't fit you.