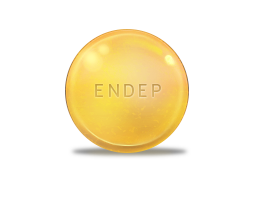 Active ingredient:
Amitriptyline
Endep - tricyclic antidepressant. The mechanism of antidepressive action is connected with increase in concentration of noradrenaline in synapses and/or serotonin in CNS (decrease in return absorption). Accumulation of these neurotransmitters results from inhibition of their return capture by membranes of presynaptic neurons.
We accept:
Other names for this medication

Delivery period
14-21 days
$9.95
Tracking# available in 14 days

Delivery period
14-21 days
$29.95
Tracking# available in 5 days
Availability:
In Stock 105 packs
Endep 25
| Package | Per pill | Total price | Save | Order |
| --- | --- | --- | --- | --- |
| 25 x 60 Pills | $0.88 | | - | Add to cart |
| 25 x 90 Pills | $0.75 | | $11.70 | Add to cart |
| 25 x 120 Pills | $0.68 | | $24.00 | Add to cart |
| 25 x 180 Pills | $0.61 | | $48.60 | Add to cart |
| 25 x 270 Pills | $0.57 | | $83.70 | Add to cart |
| 25 x 360 Pills | $0.55 | | $118.80 | Add to cart |
Endep 10
| Package | Per pill | Total price | Save | Order |
| --- | --- | --- | --- | --- |
| 10 x 90 Pills | $0.45 | | - | Add to cart |
| 10 x 180 Pills | $0.38 | | $12.60 | Add to cart |
| 10 x 270 Pills | $0.35 | | $27.00 | Add to cart |
| 10 x 360 Pills | $0.34 | | $39.60 | Add to cart |
Package Example
Your order will be packed safe and secure and dispatched within 24 hours. This is exactly how your parcel will look like (pictures of a real shipping item). It has a size and a look of a regular private letter (9.4x4.3x0.3 inches or 24x11x0.7cm) and it does not disclose its contents
Front View

Side View

Back View

Endep Product Description
---
Drug Uses
Endep is a tricyclic antidepressant with a sedative activity. The mechanism of this antidepressant action is based on the reuptake inhibition of norepinephrine and serotonin (chemicals that affect mood and well-being).
Clinical studies have shown that the anti-cholinergic properties of Endep allow using this antidepressant in the treatment of enuresis (in the absence of organic pathology).
Endep has a powerful antidepressant, sedative and anxiolytic effect, and can be prescribed to adolescents of 18 years of age and older, adults and elderly patients for the treatment of major depression. Endep use in children aged 6 years and older is approved only for the treatment of nocturnal enuresis, and is not recommended for the depression treatment.
The recommended initial Endep dose for the antidepressant therapy is 75 mg per day for adults, divided into several intakes. If necessary, the daily dose of this antidepressant may be increased to 200mg.
The daily dose of Endep for the treatment of nocturnal enuresis should be selected based on the child's age. The children under 6 years of age are usually administered with Endep 10mg immediately before going to bed. The children of 6 to 10 years are recommended to take 10 to 20 mg of Endep per day. Adolescents of 11 to 16 years are prescribed with 25 to 50 mg of the drug for the treatment of nocturnal enuresis.
Missed Dose
If you take several Endep doses a day, and incidentally miss a dose, take it on the same day as soon as possible, but only if there is a lot of time till your next dose of this antidepressant. If you've missed a daily dose of Endep, you can take it in the same evening before going to bed. Do not use antidepressant Endep during waking hours or two doses together.
More Information
The elderly patients (65 years and older) are usually recommended to use low-doses of antidepressant Endep for the depression treatment. The daily dose of 50 mg (one tablet Endep 25 mg in the morning and one in the evening) is usually sufficient to take control of depression symptoms in the patients of this age group.
Storage
The antidepressant Endep should be kept in original tightly closed package at controlled room temperature below 25°C. Endep tablets must be protected from heat and moisture.
Endep Safety Information
---
Warnings
At the initial stage of major depression treatment with the antidepressant Endep, it may cause a sharp deterioration in some symptoms, such as mood disorders or suicidal thoughts. These symptoms usually disappear during further use of this antidepressant. Young adults aged 18 to 24 years are especially susceptible to such Endep action.
Disclaimer
Information about depressive illness, presented in this Endep review, is intended as an additional source of information and can not serve for replacing the medical advice or consultation of a psychologist or a psychiatrist. The online pharmacy reserves the right not to be responsible for any kind of harm, loss or damage, incurred from use of information about the antidepressant Endep.
Endep Side Effects
---
Endep tablets are generally well tolerated. This antidepressant may cause such adverse events as dizziness, skin rash, delusions, urticaria, urinary disorders, fatigue, increased appetite, weight changes, vomiting, peculiar taste, hallucinations, tinnitus, and constipation. Abrupt Endep cessation is not desirable, because it can lead to irritability, headache, sleep disturbance, restlessness, nightmares, nausea, malaise. The probability of paralytic ileus is higher in elderly patients than in people of other age groups, using Endep.