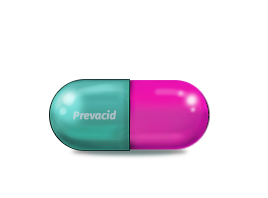 Active ingredient:
Lansoprazole
Blocks the final stage of HCl secretion, reducing basal and stimulated secretion, regardless of the nature of the stimulus. Prescribed for gastric ulcer and duodenal ulcer in acute phase, erosive-ulcerative esophagitis, reflux esophagitis, Zollinger-Ellison syndrome, stress ulcers of the gastrointestinal tract; eradication of Helicobacter pylori within a combination therapy, non-ulcer dyspepsia.
We accept:

Delivery period
14-21 days
$9.95
Tracking# available in 14 days

Delivery period
14-21 days
$29.95
Tracking# available in 5 days
Availability:
In Stock 88 packs
Prevacid 30
| Package | Per pill | Total price | Save | Order |
| --- | --- | --- | --- | --- |
| 30 x 60 Pills | $0.75 | | - | Add to cart |
| 30 x 90 Pills | $0.69 | | $5.40 | Add to cart |
| 30 x 120 Pills | $0.66 | | $10.80 | Add to cart |
| 30 x 180 Pills | $0.63 | | $21.60 | Add to cart |
| 30 x 270 Pills | $0.61 | | $37.80 | Add to cart |
| 30 x 360 Pills | $0.60 | Free Trackable Delivery | $54.00 | Add to cart |
Prevacid 15
| Package | Per pill | Total price | Save | Order |
| --- | --- | --- | --- | --- |
| 15 x 60 Pills | $0.54 | | - | Add to cart |
| 15 x 90 Pills | $0.49 | | $4.50 | Add to cart |
| 15 x 120 Pills | $0.46 | | $9.60 | Add to cart |
| 15 x 180 Pills | $0.43 | | $19.80 | Add to cart |
| 15 x 270 Pills | $0.42 | | $32.40 | Add to cart |
| 15 x 360 Pills | $0.41 | | $46.80 | Add to cart |
Package Example
Your order will be packed safe and secure and dispatched within 24 hours. This is exactly how your parcel will look like (pictures of a real shipping item). It has a size and a look of a regular private letter (9.4x4.3x0.3 inches or 24x11x0.7cm) and it does not disclose its contents
Front View

Side View

Back View

Prevacid Product Description
---
Drug Uses
Prevacid is a specific proton pump inhibitor, which helps reduce acid production in the stomach. Proton pump inhibitor Prevacid is prescribed for adults and elderly patients for reduction stomach acid production in:
reflux esophagitis
duodenal and gastric ulcer
healing of NSAID-associated gastric ulcer
bacterial infection caused by Helicobacter pylori
pathological hypersecretory conditions (including Zollinger-Ellison Syndrome)
Due to the high safety profile, Prevacid can be indicated for treatment of gastroesophageal reflux disease (erosive and non-erosive esophagitis) in the pediatric patients aged 1 year to 17 years.
The therapeutic dose of Prevacid is prescribed individually according to the drug tolerability and the clinical diagnosis of the disease. An initial dose of Prevacid in the patients with duodenal and gastric ulcer makes 15mg per day. The adult patients with NSAID-associated gastric ulcer are recommended to take from 15 to 30mg of Prevacid per day.
Missed dose
If you did not take Prevacid at the scheduled time, take it as soon as possible. Though it is almost time for your next dose of the proton pump inhibitor, miss the Prevacid intake, and return to the prescribed dosage. Do not take a double dose of proton pump inhibitor Prevacid to make up for the missed dose.
More Information
The recommended dose of Prevacid for children aged 1 year to 11 years (inclusively) is from 15mg to 30mg per day. Teenagers aged 12 to 17 years are indicated with the adult dose of Prevacid.
Prevacid capsules are recommended to be taken before breakfast, in some cases, the patients can be advised to take the proton pump inhibitor twice a day. Prevacid capsules should be swallowed whole without chewing.
If the patient has problems with swallowing capsules whole, the capsule content can be mixed with a small amount of applesauce or cottage cheese and taken immediately.
Storage
Prevacid should be stored in an original, sealed package at room temperature no higher than 30°C, and protected from exposure to bright light and excessive humidity.
Prevacid Safety Information
---
Warnings
Coadministration of Prevacid capsules with other anti-ulcer drugs should be avoided, because it increases the risk of malignant gastric tumour. Prevacid may hide symptoms of gastric tumour, so before and after the treatment, an endoscopic evaluation is recommended to exclude gastric malignancy.
The risks of osteoporosis-related fractures of the spine, wrist or hip are increased in the patients taking high doses of Prevacid for a long period (over 1 year). Therefore, the patients are advised to apply low doses and to reduce the duration of therapy with proton pump inhibitor Prevacid as possible.

Disclaimer
Information about gastrointestinal disorders, provided in the review of Prevacid, is intended for reference purposes only. This information should not be used instead of medical advice of the gastroenterologist or other professional healthcare provider. The online pharmacy under no circumstances shall be liable for any damages or negligence in the use of information on proton pump inhibitor Prevacid.
Prevacid Side Effects
---
Prevacid is usually well-tolerated. Any adverse events are mild and transient. The most common adverse events, which Prevacid may cause, are fatigue, dry/sore mouth, dry/sore throat, diarrhea, indigestion, abdominal pain, vomiting, flatulence, nausea, constipation, urticaria, or rash.In rare cases, Prevacid may cause: icterus, hepatitis, anemia, hematolysis, hair thinning, photosensitivity, joint pain, arthritis, bone disorder, low blood platelet count, granulopenia, abnormal dreams, or agitation.