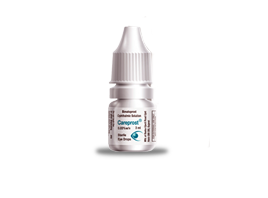 Active ingredient:
bimatoprost
Careprost is designed for those who suffer from Hypotrichosis - it is a disease in which there is an insufficient growth of eyelashes. The drug stimulates the growth of eyelashes and makes them longer, thicker and darker. The result will be noticeable within a few weeks after the start of use. For maximum results, it will take 2 to 4 months of daily use. To maintain the effect, you need to apply the product 1-2 times a week. If you do not continue applying, the eyelashes will return to their original state after 1-2 months.
We accept:

Delivery period
14-21 days
$9.95
Tracking# available in 14 days

Delivery period
14-21 days
$29.95
Tracking# available in 5 days
Availability:
In Stock 99 packs
Careprost 3
| Package | Per pill | Total price | Save | Order |
| --- | --- | --- | --- | --- |
| 3 x 1 Bottles | $37.92 | | - | Add to cart |
| 3 x 2 Bottles | $35.39 | | $5.06 | Add to cart |
| 3 x 3 Bottles | $34.55 | | $10.11 | Add to cart |
| 3 x 4 Bottles | $34.13 | | $15.16 | Add to cart |
| 3 x 5 Bottles | $33.87 | | $20.25 | Add to cart |
| 3 x 6 Bottles | $33.70 | Free Trackable Delivery | $25.32 | Add to cart |
| 3 x 7 Bottles | $33.58 | Free Trackable Delivery | $30.38 | Add to cart |
| 3 x 8 Bottles | $33.49 | Free Trackable Delivery | $35.44 | Add to cart |
| 3 x 9 Bottles | $33.42 | Free Trackable Delivery | $40.50 | Add to cart |
| 3 x 10 Bottles | $33.37 | Free Trackable Delivery | $45.50 | Add to cart |
Package Example
Your order will be packed safe and secure and dispatched within 24 hours. This is exactly how your parcel will look like (pictures of a real shipping item). It has a size and a look of a regular private letter (9.4x4.3x0.3 inches or 24x11x0.7cm) and it does not disclose its contents
Front View

Side View

Back View

Product description
---
Careprost is a highly effective topical formulation manufactured in the form of eye drops and used in both cosmetology and medicine. Being an analog of the prostaglandin hormone the active ingredient increases the outflow of the intraocular fluid, reducing the pressure. This effect is used mostly to cure open-angle glaucoma – a widespread progressive disease, which may lead to permanent and rapid loss of vision if untreated.
The medication also finds its use in the modern aesthetic medicine since it induces the growth of eyelashes and provides a positive influence on their inner structure, color, and thickness.
The medication may also be used to cure other hazardous health conditions associated with abnormally high intraocular pressure. However, the decision on the introduction of this drug in the therapy scheme must be sanctioned by a professional physician.
The medication is manufactured in the form of eye drops that contain 0.03% of the active substance. The solution has a neutral pH and does not cause topical irritation as a result of the contact with skin.
How to take
Before applying the medication, you must clean your skin, make absolutely certain that your hands are clean in order to avoid contamination, and remove the makeup (if you use any). If you wear contact lenses, you have to remove them before using the solution. You can put them back approximately fifteen minutes after the procedure.
When the solution is used to treat eyelashes, it is usually applied at the upper eyelid for the esthetical reasons. The eye drops must be used no more than once per day, preferably before the night sleep. The more frequent application of the ophthalmic agent does not accelerate the growth of eyelashes and does not increase the desired effect.
After you stop taking the medication, your eyelids will return to their previous state; the darkening of the eyelid skin usually vanish in a few weeks or months.
Safety information
---
The ophthalmic solution must be used exactly as stated in the instruction. For additional clarification, contact your physician.
The use of the therapeutic agent during pregnancy or breastfeeding is significantly limited. The therapy with the drug may be prescribed in these situations only under the care of a physician.
Although the medicine is not habit-forming, it must not be used for a longer period than necessary.
Special care and attention must be given to patients with severe renal conditions and/or liver diseases, contagious diseases, macular edema, and keratitis.
Avoid accidental misuse and overdose.
Allergic reactions to the ophthalmic solutions must result in the immediate discontinuation of the established therapy.
blurred vision;
headaches;
eye swelling;
itching;
eye pain;
abnormal changes of the color vision.
Side effects
---
When correctly applied, the medication seldom causes negative effects that may be hazardous or even notably uncomfortable. However, some recipients may experience the following symptoms:
Severe allergic reactions to the active substances/excipients included in the pharmaceutical preparation develop on rare occasions. The most frequently occurring effect of the medication that is considered uncomfortable is a transitory itching, which is reported in approximately 4% of patients.