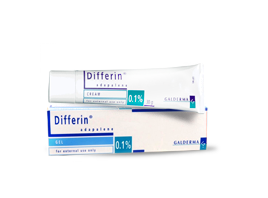 Active ingredient:
Adapalene
Differin is a white gel or cream. The drug is used to treat acne. It can also be used to combat comedones. Differin monotherapy is helpful in case of minor acne. For the treatment of severe and moderate degree of acne, the drug is used in conjunction with systemic drugs (antiandrogens, antibacterial agents). The drug is well tolerated. It rarely causes irritation, so its use is good even for those who have sensitive skin with acne. The gel is more suitable for oily skin and the cream suits better for dry skin.
We accept:

Delivery period
14-21 days
$9.95
Tracking# available in 14 days

Delivery period
14-21 days
$29.95
Tracking# available in 5 days
Availability:
In Stock 51 packs
Differin 15
| Package | Per pill | Total price | Save | Order |
| --- | --- | --- | --- | --- |
| 15 x 5 Tubes | $22.40 | | - | Add to cart |
| 15 x 10 Tubes | $16.10 | | $63.00 | Add to cart |
| 15 x 15 Tubes | $14.00 | Free Trackable Delivery | $126.00 | Add to cart |
| 15 x 20 Tubes | $12.95 | Free Trackable Delivery | - | Add to cart |
| 15 x 25 Tubes | $12.32 | Free Trackable Delivery | $252.00 | Add to cart |
Package Example
Your order will be packed safe and secure and dispatched within 24 hours. This is exactly how your parcel will look like (pictures of a real shipping item). It has a size and a look of a regular private letter (9.4x4.3x0.3 inches or 24x11x0.7cm) and it does not disclose its contents
Front View

Side View

Back View

Product description
---
Differin belongs to the category of topical retinoids aimed at the treatment of acne vulgaris that occurs in young people starting from 12 years of age. The name Acne vulgaris indicates the condition of the face, back or chest characterized by the presence of blackheads, whiteheads, and pimples. Surveys show that at least 85% of the US entire population is affected by acne at a certain point in their life.
The active substance of Differin is Adapalene that works due to its properties of a vitamin A derivative. It binds to nuclear receptors that are specific for retinoic acids. At the same time, it avoids binding to the cytosolic receptor protein. This selectivity allows adapalene to modulate the processes of keratinization, inflammation development, and cellular differentiation.
The Nonprescription Drugs Advisory Committee by FDA has confirmed that the pharmacological safety profile and the application data amassed for adapalene gel 0.01% are sufficient to make the product available over-the-counter.
Directions for use
---
Differin Gel 1mg/g should be applied as follows:
Clean the acne-affected skin using a mild lotion or a soap.
Rinse carefully and dry with easy movements.
Spread Differin gel thinly to the affected areas. Apply it to both the pimples and surrounding skin. Leave the gel for a minute to dry.
Do not remove or wash the gel from your face after application. Avoid touching or rubbing the treated areas.
Try not to use oil-based cosmetics and ointments. Makeup products providing a drying, abrasive, or peeling effect may lead to additional irritation of the skin.
Safety information
---
Patients should bring sunlight exposure to the minimum, including solarium lamps and sunlamps, during the treatment with Differin. If it is not possible to avoid the exposure, use sunscreens and protective clothing. Extreme wind or cold temperatures may also cause irritation.
Differing should not come in contact with the lips, wings of the nose, eyes, and mucous membranes. Avoid applying the medicine on cuts, scratches, patches of skin damaged by eczema or sunburns. Similarly to all retinoids, adapalene is not compatible with skin waxing.
Caution should be observed when combining Differin with other topical-action products, such as medicated soaps or cleansers with abrasive effect, as well as alcohol-containing products or astringents. Use with extra care any preparation comprising resorcinol, sulfur, or salicylic acid when staying with Differin.
This medicine has an unknown potential for use in pregnant women or those planning pregnancy. The data by FDA shows that about 12% of adult American women suffer from moderate to severe acne. The study comparing the safety risk against the pharmaceutical's beneficial potential in animals has confirmed adapalene to be teratogenic and malformation-inducing when given orally at high dose levels (25 mg/kg and 60 mg/kg).
Side effects
---
In placebo-controlled clinical studies, use of Differin was most commonly associated (≥1%) with skin dryness, irritation and discomfort, itchy feelings, skin desquamation, and painful sunburns.
The above are mild reactions and they normally pass quickly. However, you should not postpone your visit to the doctor if you notice or are bothered by any of the following adverse effects: contact dermatitis/eczema-like manifestations, acne flare, facial swelling, acute conjunctivitis.