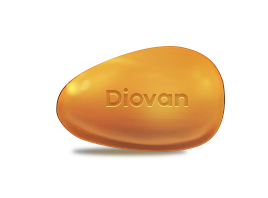 Active ingredient:
Valsartan
Diovan - the peripheral vasodilator, has hypotensive effect. The specific blocker of AT1 receptors of angiotensin II, does not inhibit ACE; does not influence the level of general cholesterol, TG, glucose and uric acid in blood.
We accept:

Delivery period
14-21 days
$9.95
Tracking# available in 14 days

Delivery period
14-21 days
$29.95
Tracking# available in 5 days
Availability:
In Stock 114 packs
Diovan 160
| Package | Per pill | Total price | Save | Order |
| --- | --- | --- | --- | --- |
| 160 x 30 Pills | $2.26 | | - | Add to cart |
| 160 x 60 Pills | $1.72 | | $32.40 | Add to cart |
| 160 x 90 Pills | $1.54 | | $64.80 | Add to cart |
| 160 x 120 Pills | $1.45 | | $97.20 | Add to cart |
| 160 x 180 Pills | $1.36 | Free Trackable Delivery | $162.00 | Add to cart |
Diovan 80
| Package | Per pill | Total price | Save | Order |
| --- | --- | --- | --- | --- |
| 80 x 30 Pills | $1.67 | | - | Add to cart |
| 80 x 60 Pills | $1.36 | | $18.60 | Add to cart |
| 80 x 90 Pills | $1.25 | | $37.80 | Add to cart |
Diovan 40
| Package | Per pill | Total price | Save | Order |
| --- | --- | --- | --- | --- |
| 40 x 30 Pills | $1.12 | | - | Add to cart |
| 40 x 60 Pills | $0.92 | | $12.00 | Add to cart |
| 40 x 90 Pills | $0.86 | | $23.40 | Add to cart |
Package Example
Your order will be packed safe and secure and dispatched within 24 hours. This is exactly how your parcel will look like (pictures of a real shipping item). It has a size and a look of a regular private letter (9.4x4.3x0.3 inches or 24x11x0.7cm) and it does not disclose its contents
Front View

Side View

Back View

Diovan Product Description
---
Drug Uses
Diovan is an angiotensin II receptor blocker, providing a direct and indirect effect on regulation of blood pressure. Diovan inhibits vasoconstriction, reduces sodium and water retention in the body. Antihypertensive drug Diovan is prescribed to children of 6 years and above, adults and elderly patients for:
treatment of heart failure;
treatment of hypertension;
survival improvement after acute myocardial infarction in clinically stable patients.
Diovan benefits are considered as:
to lower the blood pressure quickly, without changed heart rate in hypertensive patients;
to lower high blood pressure and to reduce the risk of heart damage and further heart problems.
After the intake of Diovan pills, the antihypertensive effect develops within 1.5-2 hours and lasts about 24 hours. The maximum lowering in blood pressure is achieved within 4 weeks of the systematic application of Diovan.
The recommended dose of Diovan for adult hypertensive patients varies between 80mg or 160mg per day. To achieve a greater antihypertensive effect, daily Diovan dose can be increased to 320mg or a diuretic to be included into the antihypertensive therapy ("water pills").
The pediatric dose of Diovan (from 6 to 16 years) is adjusted on the basis of the child's bodyweight and makes 1,3 mg per kg. The maximum dose of Diovan for children should not exceed 160mg per day.
Missed Dose
Diovan is recommended to be taken daily in the morning. If you remembered that you had forgotten to take a dose of the antihypertensive drug, take a pill of Diovan immediately or on the same day. If you remembered about the missed dose of Diovan shortly before the next scheduled dose of pills, just skip the missed dose of the antihypertensive drug, do not double it.
More Information
Diovan tablets should be swallowed without chewing, with a full glass of water. Food intake does not affect the absorption of the antihypertensive drug. However, if any symptoms of gastric disorders are observed after the intake of Diovan tablets, the patient is recommended to take the drug after a meal.
Storage
Diovan should be stored in its original package at room temperature, not exceeding 30°C, and protected from moisture and direct sunlight.

Diovan Safety Information
---
Warnings
Diovan may cause serious adverse effects in fetus and neonatal. Therefore, Diovan is strictly not recommended to be used by women to reduce high blood pressure during pregnancy. The patients recently experienced a myocardial infarction and heart failure should use Diovan with extra caution.

Disclaimer
Reference materials about the treatment of hypertension or heart failure, contained in the review of Diovan, are provided solely for the informational purposes and should not be considered to substitute for the cardiologist's consultation. The online pharmacy shall accept no responsibility for any direct or consequential loss that may result from the use of the information, provided in the review of antihypertensive drug Diovan.
Diovan Side Effects
---
Adverse reactions, caused by Diovan tablets, may vary in patients with various heart conditions. The type and severity of Diovan adverse reactions may depend on the kind of diseases, treated with this drug. In the treatment of hypertension or heart failure, Diovan may cause: abdominal pain, nausea, viral infection, bronchitis, or URTI. Besides, patients with heart failure may experience diarrhea, fatigue, arthralgia, dizziness, or back pain. Patients with post-myocardial infarction may observe hypotension, atrial fibrillation, hypercreatininemia, or cough after the application of Diovan.