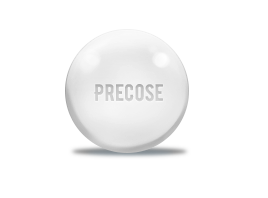 Active ingredient:
Acarbose
An oral hypoglycemic means, which inhibiting the intestinal alpha-glycosidase, reduces the enzymatic conversion of di-, oligo - and polysaccharides to mono-saccharides, thereby reducing the absorption of glucose from the intestine and postprandial hyperglycemia. It is used to treat diabetes, of type 2 under the ineffective diet, the course of which shall not be less than 6 months, type 1diabetes within the combination therapy.
We accept:

Delivery period
14-21 days
$9.95
Tracking# available in 14 days

Delivery period
14-21 days
$29.95
Tracking# available in 5 days
Availability:
In Stock 124 packs
Precose 50
| Package | Per pill | Total price | Save | Order |
| --- | --- | --- | --- | --- |
| 50 x 60 Pills | $0.79 | | - | Add to cart |
| 50 x 90 Pills | $0.67 | | $10.80 | Add to cart |
Precose 25
| Package | Per pill | Total price | Save | Order |
| --- | --- | --- | --- | --- |
| 25 x 60 Pills | $0.65 | | - | Add to cart |
| 25 x 90 Pills | $0.58 | | $6.30 | Add to cart |
| 25 x 120 Pills | $0.54 | | $13.20 | Add to cart |
| 25 x 180 Pills | $0.51 | | $25.20 | Add to cart |
| 25 x 270 Pills | $0.49 | | $43.20 | Add to cart |
| 25 x 360 Pills | $0.47 | | $64.80 | Add to cart |
Package Example
Your order will be packed safe and secure and dispatched within 24 hours. This is exactly how your parcel will look like (pictures of a real shipping item). It has a size and a look of a regular private letter (9.4x4.3x0.3 inches or 24x11x0.7cm) and it does not disclose its contents
Front View

Side View

Back View

Precose Product Description
---
Drug Uses
Precose is an oral antidiabetic drug that lowers blood glucose concentration after a meal, and reduces a level of glycated hemoglobin in patients with noninsulin-dependent diabetes (type 2 diabetes). Oral hypoglycemic drug Precose acts in the bowel and does not affect the pancreas.
Precose is prescribed for adults and elderly patients (65 years and older) with type 2 diabetes as an adjunct to a diet and physical exercise for improving glycemic control.
The therapeutic dose of Precose is matched individually for each patient because the clinical response and tolerability of the oral hypoglycemic drug are different for each patient.
The recommended initial dose is 25mg of Precose three times (75mg per day) with each main meal followed by an increase up to 50mg three times daily (150mg). Precose maintenance dose may vary from 150 to 300mg per day.

Missed dose
If you've started eating, do not take a missed dose of Precose. Wait till your next meal intake and take a dose of Precose under the prescribed dosage. Do not take a double dose of Precose to make up a missed dose of the hypoglycemic drug.

More Information
Some patients may poorly tolerate Precose. Therefore, treatment of these patients is recommended to start with a daily dose of 25mg Precose followed by gradual titration to 75mg per day (three doses).
The maximum recommended dose of Precose for patients with body weight under 60 kg makes 150mg per day (one Precose 50mg tablet three times a day). The maximum daily dose for patients with body weight over 60 kg should not exceed 300mg (maximum three 100mg tablets of Precose per day).

Storage
Precose should be stored in an original, closed package at controlled room temperature of 25°C and relative humidity of 60%. Precose tablets should be protected from bright light.
Precose Safety Information
---
Warnings
Precose provides an antihyperglycemic effect, does not cause hypoglycemia when used for monotherapy of diabetes. When Precose is used with other glucose-lowering medications, the risk of hypoglycemia is increased. If the diabetic patients have had surgery, have suffered from infectious diseases or fever, control of the blood glucose level might be lost. In this case, Precose intake is recommended to be stopped and the insulin therapy is advised.

Disclaimer
This review of Precose contains only general information about diabetes treatment. This information should not be used as an alternative to medical advice from the endocrinologist or other professional healthcare provider. The online pharmacy makes no warranty or representation about any damages, caused by the use of information on alpha-glucosidase inhibitor Precose.
Precose Side Effects
---
Patients taking antidiabetic agent Precose are reported to complain of gastrointestinal symptoms, such as: abdominal pain, diarrhea or flatulence. Other common unwanted effects, associated with the application of Precose, include: soft stools, nausea, vomiting, swelling, liver disorder, icterus, hepatic function abnormal, or liver injury. Most unwanted effects of Precose are mild to moderate in severity.