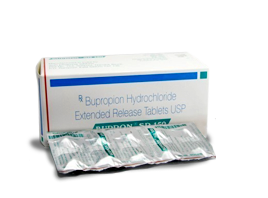 Active ingredient:
Bupropion
The medicine is blue or white tablets, the dose of the active substance is 75, 100 and 150 mg. Tablets have the bitter taste and a slight anesthetic effect on the oral mucosa. Pills may be quickly dissolved in water. Bupron is a second-generation antidepressant. Its effectiveness as an anti-nicotine drug is based on the suppression of psychological dependence on nicotine (nicotine dependence), as well as on the direct antidepressant effect, which reduces the negative manifestations that appear when a person gives up smoking.
We accept:

Delivery period
14-21 days
$9.95
Tracking# available in 14 days

Delivery period
14-21 days
$29.95
Tracking# available in 5 days
Availability:
In Stock 109 packs
Bupron SR 150
| Package | Per pill | Total price | Save | Order |
| --- | --- | --- | --- | --- |
| 150 x 30 Pills | $2.01 | | - | Add to cart |
| 150 x 60 Pills | $1.64 | | $22.20 | Add to cart |
| 150 x 90 Pills | $1.52 | | $44.10 | Add to cart |
| 150 x 120 Pills | $1.46 | | $66.00 | Add to cart |
| 150 x 180 Pills | $1.40 | Free Trackable Delivery | $109.80 | Add to cart |
| 150 x 270 Pills | $1.36 | Free Trackable Delivery | $175.50 | Add to cart |
| 150 x 360 Pills | $1.34 | Free Trackable Delivery | $241.20 | Add to cart |
Package Example
Your order will be packed safe and secure and dispatched within 24 hours. This is exactly how your parcel will look like (pictures of a real shipping item). It has a size and a look of a regular private letter (9.4x4.3x0.3 inches or 24x11x0.7cm) and it does not disclose its contents
Front View

Side View

Back View

Product description
---
Bupron SR is indicated for fighting a depression. Its main active ingredient is bupropion.
Important! Teenagers and younger patients using this drug may be at a significant level of risk for suicidal tendencies or thoughts. All the above patient categories should be watched closely while going through the antidepressant therapy. Contact your primary care physician at once if recent, worsened, or unexpected symptoms emerge, such as low mood, anxiousness, restlessness, irritability, unusual or strange behavior, or panic attacks. Call your doctor immediately if there is a manifestation of suicidal tendencies or thoughts.
Bupron SR comprises the same active ingredients as Zyban, a drug designed to fight the smoking habit, and Aplenzin, another commonly applied medicine in treatments of depression. You should not co-administer these pharmaceuticals.
This drug is associated with a greater risk of seizures. Seizures may occur with even higher probability when the medicine is mixed with alcohol or high doses of the drug are administered for a prolonged time.
How to take
Take the established dose of Bupron SR orally regardless of mealtime. If your stomach gets upset with administrations, take with some food to decrease stomach irritation.
It may take a couple or more weeks before you start feeling better. However, even when you symptoms recede, do not discontinue the drug without appropriate directions from your doctor.
Take your measured amount of medication at strictly the same hour each day, with a minimal spacing of 6 hours unless instructed otherwise by your physician.
Safety information
---
Refrain from administering Bupron SR if one or more of the following is true for your condition:
you have allergies to an ingredient/ingredients in the drug;
you are staying on medicines with similar constituents;
your medical history comprises an eating disorder (such as bulimia) or epileptic convulsions;
you are about to suddenly quit a long-term consumption of alcohol or a course of sedatives (such as benzodiazepines);
you have stayed on an MAOI (such as phenelzine) on the course of the last two weeks;
you are currently pregnant or preparing to carry a child;
you have an ongoing therapy with a pharmaceutical product, herbages, or biological additives;
you have known allergies to other similar or non-similar medicines, or substances;
your medical history comprises non-epileptic seizures, head injuries, brain or spine tumors.
This medicine is likely to be associated with sleepiness, giddiness, or unclear vision. These physical effects may worsen if you mix the drug with alcohol or other non-recommended medicines. Exercise caution and avoid driving or performing unsafe or hazardous tasks if you are not sure of your reaction to the substance.
Refrain from taking anti-congestion drugs (such as pseudoephedrine), stimulating substances, or dietary supplements while staying on Bupron SR without prior consultation with your attending doctor.
This product should be applied with extra caution in younger patients as its safety in these populations has not been established.
Side effects
---
Commonest reactions are as follows:
Increased or decreased appetite, constipation, lightheadedness, dryness in the mouth, increased perspiration, agitation, disquiet, taste changes, sleeplessness.
If you experience issues with sleeping, your dose may be prescribed too closely to bedtime. Ask your physician about the possibility of shifting the schedule.