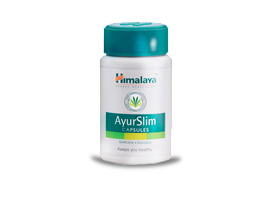 AyurSlim is a clinically tested, 100% safe natural slimming product with no side effects. Developed by Himalaya Herbal Healthcare, a leader in the production of herbal products based on scientific research, AyurSlim promotes weight loss and has a beneficial effect on fat structures. This plant product is safe and effective and is carefully studied by science. In addition, help to lose weight, it improves fat structure, which in turn helps to delay the appearance of cardiovascular problems, as well as the deposition of fat inside the arteries (cholesterol deposits), providing additional health benefits.
We accept:

Delivery period
14-21 days
$9.95
Tracking# available in 14 days

Delivery period
14-21 days
$29.95
Tracking# available in 5 days
Availability:
In Stock 84 packs
AyurSlim 60
Package Example
Your order will be packed safe and secure and dispatched within 24 hours. This is exactly how your parcel will look like (pictures of a real shipping item). It has a size and a look of a regular private letter (9.4x4.3x0.3 inches or 24x11x0.7cm) and it does not disclose its contents
Front View

Side View

Back View

Product Description
---
Ayurslim is a product which name speaks for itself. The name consists of two words "ayurvedic" meaning a branch of alternative medicine and "slim". In other words, it's a natural medicine which aim is to help a person lose weight and become slim. It has been clinically tested. The product is 100% natural agent. It is safe when it's taken as an expert recommends.
The product is produced in the form of a tablet and tea. These are advantages of the drug:
It helps to lose weight
It contains a combination of herbs which can burn fat and prevent its accumulation for a long period
It improves metabolism that results in burning of fats and lipids in the body
It prevents the production and synthesis of fatty acids in the musculature and liver and thus stops lipogenesis
It reduces the need for sugar and neutralizes the sugar in the body
It influences factors which play the most important role in weight loss
It reduces the level of cholesterol and triglyceride
Garcinia cambogia (it prevents the production and synthesis of fatty acids in the musculature and liver; it doesn't let carbohydrates turn into fatty acids)
Meshashringi (due to it an organism needs less sugar and the sugar present in the body becomes neutralized)
Balsamodendron mukul (it fights with factors which lead to obesity by reducing the amount of triglyceride and cholesterol)
Fenugreek (it works like a strong antidiabetic agent)
Chebulic Myrobalan (it's a great antioxidant and a herb that copes with the inflammatory process and makes toxins get out of the organism)
It's a dietary supplement and does not belong to remedies.
What Makes the Dietary Supplement Effective?
AyurSlim capsules are so effective due to natural ingredients. Their composition includes a number of herbs. Each component functions differently making the product efficient and valuable. The basic ingredients are:
NB! The product can produce zero effect if a person avoids exercising. It's required to exercise 20 minutes a day 3-4 times a week. People can have a better effect when eating less but oftener and reducing the amount of sweet and fatty food. Users of the dietary supplement should drink enough clean water (8-10 glasses per day). The result is visible in 4-6 weeks but specialists usually recommend using the supplement not less than 3 months.
People can drink AyurSlim tea to refresh and get rid of extra kilos. It has lemon powder and green tea which make the product tasty.
Safety Information
---
Despite the fact that the product is not a medicine and is considered to be absolutely safe, there are people who shouldn't take these capsules or drink tea. Women during pregnancy and lactation, those who suffer from liver diseases and those who have kidney problems are not recommended to use this dietary supplement.
In case a person has diabetes or high blood pressure, he or she should consult a specialist first.
Side Effects
---
The product is safe but a person can have hypersensitivity or an allergy to its components. Only a few people had headaches, dizziness, diarrhea, jitteriness, fatigue, sickness, and insomnia.