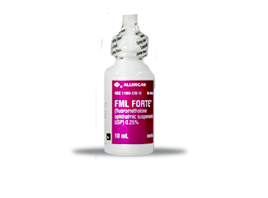 FML (Fluorometholone) Forte is a topical drug that belongs to the corticosteroid group of medicines. Its aim is to cure various eye problems connected with injury and inflammation. It is effective in case of bulbar conjunctiva and palpebral conjunctiva. The suspension remedies eye swelling, itching, irritation, and redness. These eye drops are not recommended to people who wear contact lenses daily. If a patient must use the drops, it's necessary to replace contact lenses with glasses or just not to wear them during the medication.
We accept:

Delivery period
14-21 days
$9.95
Tracking# available in 14 days

Delivery period
14-21 days
$29.95
Tracking# available in 5 days
Availability:
In Stock 47 packs
FML Forte 5
| Package | Per pill | Total price | Save | Order |
| --- | --- | --- | --- | --- |
| 5 x 1 Suspensions | $29.19 | | - | Add to cart |
| 5 x 2 Suspensions | $22.71 | | $12.96 | Add to cart |
| 5 x 3 Suspensions | $20.54 | | $25.95 | Add to cart |
| 5 x 4 Suspensions | $19.46 | | $38.92 | Add to cart |
| 5 x 5 Suspensions | $18.81 | | $51.90 | Add to cart |
| 5 x 6 Suspensions | $18.38 | | $64.86 | Add to cart |
| 5 x 7 Suspensions | $18.07 | | $77.84 | Add to cart |
| 5 x 8 Suspensions | $17.84 | | $90.80 | Add to cart |
| 5 x 9 Suspensions | $17.66 | | $103.77 | Add to cart |
| 5 x 10 Suspensions | $17.51 | | $116.80 | Add to cart |
Package Example
Your order will be packed safe and secure and dispatched within 24 hours. This is exactly how your parcel will look like (pictures of a real shipping item). It has a size and a look of a regular private letter (9.4x4.3x0.3 inches or 24x11x0.7cm) and it does not disclose its contents
Front View

Side View

Back View

Product description

---
FML Forte is a potent corticosteroid drug with anti-inflammatory properties. It is a widely recognized medication designed to mitigate swelling, redness, smarting and the sensation of warmness in the eyes.
Important!
Use of this product is unfeasible in patients with an ocular viral infection (for instance, herpes), chicken pox or small pox infection, as well as in cases when the patient's eyes are affected by tuberculosis or certain eye infections (such as pus- or discharge-producing) that call for medical attention.
Directions for use
---
Apply FML Forte only according to the individual recommendations by your doctor.
Shake thoroughly before each application. To apply the drops, ensure that your hands are washed.
Tilt your head back. With your ring finger, gently pull the bottom eyelid away to clear the eye and form a pocket.
Drop the medication into the formed pocket and carefully close your eyes. Instantly apply pressure with your finger on the eye's inside corner for 1-2 minutes. Try not to blink.
Remove excessive liquid around your eyes using a clean tissue, observing particular care to not touch the eyes. Wash the remaining medicine off your hands.
To avoid contamination of your drops with germs, ensure that the applicator does not have contact with any surface, including that of your eye, at any moment. Store the container securely closed.
You cannot wear soft contact lenses during the treatment. Disinfect and maintain contact lenses in accordance with the manufacturer's guidance and consult with your doctor prior to wearing them.
If prescribed several eye medicines at the same time, establish the best sequence for applying each one. Seek advice from your physician regarding any issues you might encounter in your experience with FML Forte.
Safety information
---
With the help of your doctor, review your medical history from previous years in particulars to exclude the risk of present physiological discordancy or allergies.
When taking FML Forte, you put yourself at the risk of becoming dizzy or drowsy. Complex or mentally demanding tasks are not recommended during the period of treatment (e.g., operating automobiles or heavy machinery). This risk significantly increases if the medication is combined with alcoholic drinks.
Your health advisor may point out the necessity to conduct certain tests, such as eye pressure measurements aimed at determination of your responsiveness to the drug and clarify the severity of the reactions to this pharmaceutical product.
You should inform your surgeon that you are staying on the ophthalmic prior to any surgical procedures.
Women expecting a child and breastfeeding mothers should seek consultation regarding possible hazards to the unborn baby or nursling.
Side effects
---
The normal response to most medication usually includes a few non-lasting and non-severe side effects that do not require special attention.
For FML Forte, these are manifested as short-term feelings of burning or stinging, taste changes and blurred vision.
In some patients, these non-severe reactions may develop further, persist or become troubling. If so, seek emergency medical attention.
The rarest cases of severe adverse effects include allergic reactions (hives, reddening of the skin, trouble breathing, tension in the chest, facial swelling). Also, you may experience vexing alterations of vision, persisting blurred vision, pain, and itch in the eye, discharge from eyes, development of irritation and fresh sores.