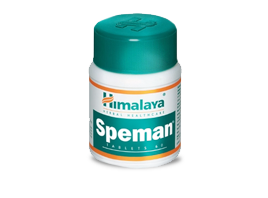 Speman enhances male sexual performance by means of substances of vegetable origin. Extracts of seeds, stems, leaves and roots coming from nine medicinal plants are selected for their spermatogenesis-boosting properties. The drug facilitates and stimulates the process of sperm generation, increasing the mobility of spermatozoids and reducing the thickness of semen (which, consequently, improves fertilizing capabilities of sperm). Spenman decongests the prostate gland and returns its size back to unenlarged, in turn restoring both the normal urinary function and the male's libido.
We accept:

Delivery period
14-21 days
$9.95
Tracking# available in 14 days

Delivery period
14-21 days
$29.95
Tracking# available in 5 days
Availability:
In Stock 72 packs
Speman 60
Package Example
Your order will be packed safe and secure and dispatched within 24 hours. This is exactly how your parcel will look like (pictures of a real shipping item). It has a size and a look of a regular private letter (9.4x4.3x0.3 inches or 24x11x0.7cm) and it does not disclose its contents
Front View

Side View

Back View

Product description
---
Speman chiefly impacts the function of testicles, semen-containing vesicles, and epididymides. As the result, a male's reproductive organs perform at an improved rate and his sperm count increases.
This pill enhances the development of mature sperm solely with the help of its natural components. Its production in men gets a boost as their levels of testosterone is increased. Primarily, the drug is indicated for patients with oligospermia (low concentration of sperm in seminal fluid). The overall quality of semen improves with both the sperm count and increase in the quantity of the basophil cells producing luteinizing and follicle-stimulating hormones (LH and FSH) in the pituitary. The enhanced sexual function also includes a more powerful sexual drive and longer-lasting erections.
Drug composition
This medicine combines herbs with strong aphrodisiac and antioxidative properties which are essential in the production of semen.
Kokilaksha (Hygrophilia) is a natural antioxidant that mitigates the damage done to spermatozoids by strengthening their membranes against oxidative disruption. The ingredient frequently constitutes treatments of oligospermia, spermatorrhea, impotence, and seminal incapacities.
Kapikachchu (Cowhage/Velvet Bean) possesses an aphrodisiac potency supporting the production of pleasure-inducing hormones released in the brain. This herbal component is useful due to its prophylactic activity that is beneficial in cases of low/insufficient sperm count.
Gokshura (Small Caltrops) contains a saponin of the steroidal nature, known as protodioscin. This compound gets converted to dehydroepiandrosterone (DHEA) in the patient's body and serves as a precursor to testosterone required for sexual excitement and sustainment of penile erections.
Guidelines for use
The medicine is to be used in a strict accordance to the prescription information. Patients should always follow the instructions of their doctor or those specified in the user's booklet/drug label. Never take more drug than directed.
You can take Speman regardless of your diet or mealtime preferences.
Unless your doctor tells you otherwise, take a single pill of Speman and swallow it with half-a-glass of pure water. Do not break or chew the pill. Use the product only as intended. Sharing it with other people is forbidden.
All missed doses should be skipped. Simply follow your normal schedule and do not increase the following dose.
Safety information
---
Using Speman does not oblige you to follow any special precautions. There are no contraindications for the drug, except an allergic response. Please, consult your doctor regarding the history of your allergies.
Speman is not meant to be taken by women. This preparation can be administered to men only.
Do not drink more than 4-5 glasses of alcohol per day when on a treatment with Speman.
Store this medicine at room temperature in a range of 59-86 °F. Make sure the package remains protected from moisture and direct sun rays at all time. Avoid storing in a bathroom. Children and pets should not have access to Speman. Dispose of the pills once their shelf-life is expired.
Side Effects
---
Taking Speman in the dose suggested or prescribed by your doctor will guarantee you the complete absence of side effects. The minute probability of unpleasant reactions is particularly associated with allergies.