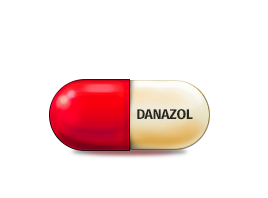 Active ingredient:
Danazol
Danazol is used in endometriosis (with concomitant infertility), benign neoplasms of the breast (fibrocystic mastopathy), primary menorrhagia, premenstrual syndrome, primary premature puberty, gynecomastia.
We accept:
Other names for this medication

Delivery period
14-21 days
$9.95
Tracking# available in 14 days

Delivery period
14-21 days
$29.95
Tracking# available in 5 days
Availability:
In Stock 109 packs
Danazol 200
| Package | Per pill | Total price | Save | Order |
| --- | --- | --- | --- | --- |
| 200 x 30 Pills | $4.02 | | - | Add to cart |
| 200 x 60 Pills | $2.97 | | $63.00 | Add to cart |
| 200 x 90 Pills | $2.61 | Free Trackable Delivery | $126.90 | Add to cart |
Danazol 100
| Package | Per pill | Total price | Save | Order |
| --- | --- | --- | --- | --- |
| 100 x 30 Pills | $3.35 | | - | Add to cart |
| 100 x 60 Pills | $2.71 | | $38.40 | Add to cart |
| 100 x 90 Pills | $2.49 | Free Trackable Delivery | $77.40 | Add to cart |
Danazol 50
| Package | Per pill | Total price | Save | Order |
| --- | --- | --- | --- | --- |
| 50 x 30 Pills | $1.89 | | - | Add to cart |
| 50 x 60 Pills | $1.57 | | $19.20 | Add to cart |
| 50 x 90 Pills | $1.46 | | $38.70 | Add to cart |
Package Example
Your order will be packed safe and secure and dispatched within 24 hours. This is exactly how your parcel will look like (pictures of a real shipping item). It has a size and a look of a regular private letter (9.4x4.3x0.3 inches or 24x11x0.7cm) and it does not disclose its contents
Front View

Side View

Back View

Danazol product description
---
Danazol belongs to the group of drugs intended for the treatment of sexual/urinary diseases and sex hormone preparations.
The composition includes Danazol - a means that modulates the work of the reproductive system.
Danazol inhibits the production of gonadotropic hormones (follicle-stimulating and luteotropic) by the pituitary gland. Gonadotropin deficiency slows the work of ovaries and ovulation, reduces the concentration of estrogen in the body, endometrial atrophy occurs. With endometriosis, the medication damages normal and ectopic areas; reduces the area of damaged areas and reduces pain. Under the influence of the drug, proliferation of erythrocytes, the development of immunoglobulins and autoantibodies is reduced. In case of mastopathy with fibrocystic formations, Danazol helps to reduce the size of the nodes or complete their dissolution with the elimination of pain and discomfort. By increasing the content of the C1-esterase inhibitor, Danazol helps with hereditary angioedema. Pharmacological action of the drug is reversible. In case of using the high tolerated doses, Danazol may have a weak androgenic effect and may be accompanied by anabolism.
Danazol safety information
---
Danazol is forbidden for people with allergies to danazol and intolerance to other capsule components. The drug is contraindicated if the patient has porphyria, glucose-galactose malabsorption, heart failure, kidney and liver, bleeding from the genital organs without establishing the cause, acute thrombosis and thromboembolic disease, lactose deficiency. Danazol is not allowed for oncological patients with androgen-dependent tumors, breast cancer. Capsules are not allowed for children under 18 years of age. It is possible to treat Danazol with liver, kidney, heart and vascular diseases, diabetes mellitus, hypertension, migraine, polycythemia, epilepsy, dyslipidemia, with persistent androgenic reactions to sex hormone therapy in the anamnesis, with caution. Caution should be taken while consuming medication in case of violation of plasma mechanisms of hemostasis and any other conditions that can worsen if the water-electrolyte balance is disturbed. It is forbidden to use Danazol for the medical care of pregnant and lactating women. During therapy, non-hormonal methods of contraception should be used.
Danazol side effects
---
Often, with the use of capsules, some patients may experience the following adverse reactions: seborrhea, acne, emotional lability, weight gain, hirsutism, alopecia, voice coarsening, increased appetite, menstrual irregularity, mucous hemorrhagic discharge between menstruation, amenorrhea, vaginal dryness, anxiety, changes in libido, irritation of the vaginal mucosa , hot flashes, headache, hypersensitivity to insulin, decreased glucose tolerance, increased HDL concentration, decreased thyroxine content, rash, fever, facial edema and Charter, photosensitivity, pain in the back, extremities and joints, muscle spasms, tremors, fasciculation, depression, nervousness, nausea. Infrequent use of Danazol can cause a decrease in the mammary glands, urticaria, an increase in the activity of serum transaminases. Rarely, tachycardia, pancreatitis, visual impairment, clitoral hypertrophy, fluid retention in the body, decreased spermatogenesis, inflammation of the erythematous nodes, leukopenia, skin pigmentation disorder, exfoliative dermatitis, exudative erythema multiforme, cholestatic jaundice, hypertension, palpitation, thrombotic complications, an increase in the content of red blood cells and platelets, dizziness, polycythemia, increased intracranial pressure, thrombocytopenic benign adenoma of the liver, weakness. Very rarely, Danazol therapy provokes myocardial infarction, epilepsy weighting, migraine attacks, eosinophilia, splenic peliosis, malignant tumor and liver hemorrhage, hematuria, epigastric pain, carpal tunnel syndrome, interstitial pneumonia.