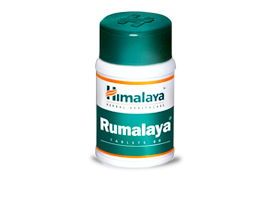 Anti-inflammatory gel for joints and muscles is based on plant components. Rumalaya gel is used for pain in the joints, muscles, relieves swelling and inflammation, makes the joints mobile. The gel is used in the treatment of damaged joints. Unlike tablets, it is used localized, thus gives the best result. The medicine is aimed to treat arthritis, polyarthritis, arthrosis, gout, injuries of the musculoskeletal system, bruises, sprains, rheumatic diseases, osteochondrosis, neuritis, and radiculitis.
We accept:

Delivery period
14-21 days
$9.95
Tracking# available in 14 days

Delivery period
14-21 days
$29.95
Tracking# available in 5 days
Availability:
In Stock 133 packs
Rumalaya 60
Package Example
Your order will be packed safe and secure and dispatched within 24 hours. This is exactly how your parcel will look like (pictures of a real shipping item). It has a size and a look of a regular private letter (9.4x4.3x0.3 inches or 24x11x0.7cm) and it does not disclose its contents
Front View

Side View

Back View

The healing powers of plants have been used for the benefits of sick people for hundreds of years. Though the modern medicine has reached an incredible level, we still turn for the help of nature. Rumalaya is a bright example of natural components working for the support of human health.
Product description
---
Rumalaya is a combination of natural components each of which works for the improvement of the general condition of joints. The medication has anti-inflammatory and analgesic effects. Besides, it enhances the blood circulation in the joints, thus promoting more calcium, magnesium, and phosphorus reach the tissues affected by a disease.
The medication may be applied in patients with rheumatism, arthritis, gout, low back pain, osteoarthritis, cervical or lumbar spondylitis, various joint inflammatory conditions including bursitis, capsulitis, and others. Besides, Rumalaya shows efficiency in the treatment of sports traumas and other joint injuries.
The preparation is manufactured by the Himalaya Drug Company. There are three forms of the drug available: pills, gel, and liniment. They may be used either separately or in combination (for example, pills+gel or pills+liniment), which is believed to induce a better effect.
Safety information
---
Rumalaya has no contraindications to the intake or application. Nevertheless, some people should be especially cautious with the medication. They are those who suffer from:
Severe kidney disease;
Renal impairment;
Stomach ulcer;
Or have a history of alcohol or drug abuse.
In addition, pregnant women and breastfeeding mothers should consult their health care provider to evaluate possible benefits for the mother and risks for the fetus or a nursing baby. As no clinical trials concerning the use of Rumalaya in such patients have been conducted, it's better to avoid applying this drug.
People suffering from severe reactions of hypersensitivity should also stay cautious when using the preparation, as it may induce an allergic reaction.
Inform your healthcare provider about the medicines, vitamins, supplements, and other herbal products you take to avoid hazardous interactions.
Rumalaya tablet form should be taken twice daily. The same regimen should be followed when using gel or liniment forms of the remedy. Exceeding the dose may be dangerous. In case you've forgotten about the drug intake or application of other forms of the medication, you should use them as soon as you remember about it. If the time of the next intake is close, don't take a double dose, just skip it. All in all, the drug is comparatively safe if used as prescribed.
Side effects
---
In the process of clinical trials, no signs of any negative effects have been noticed. So, Rumalaya is considered to have zero side reactions. However, some individuals may be hypersensitive to the herbal components of the medication. The allergic reaction may manifest through swelling of the throat, lips, tongue, and face, which leads to difficulty breathing. In case of experiencing any symptoms of allergy to Rumalaya, call for an emergency help.
You should never treat your joints with Rumalaya pills, gel or liniment if you haven't been prescribed it. Only a medical professional may determine the need to use this medication.